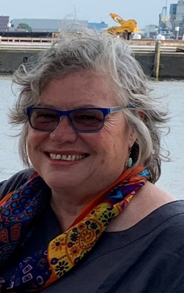 On behalf of UNEP, the World Water Quality Alliance, WWQA, and the Global Environment Monitoring System for Water, GEMS/Water,
The team would like to express heartfelt condolences for the passing of Ms. Rowena Hay, to her family, friends, and colleagues.
Water and people were her passion. Bringing worldviews to an individual's perspective and engaging in making peoples' lives a little better was what Rowena Hay did full heartedly and with the ambition to leave no one behind.
As one of the coordinating lead authors for the water chapter in the sixth edition of the Global Environment Outlook (GEO 6) and as a valued partner of the World Water Quality Alliance from the start, she always gave guidance and inspiration. She shared a people-centred view on water, environment, and equality.
We say an untimely farewell to a wonderful person, a close friend, and a patient colleague who was always full of humour and stamina, even when navigating rough "waters". Her memory will remain lively and we wish her husband, family, friends and close one's strength, health, faith, and patience to walk the future without her but certainly with her spirit always present.
With Best Regards,
WWQA and GEMS/Water